I do Commissions!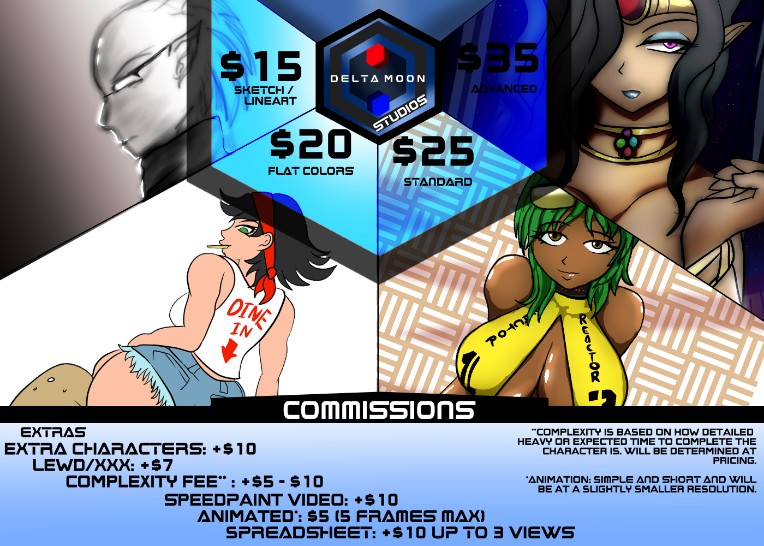 If you have any questions don't hesitate to ask me =3
ITS SUMMER HEAT WAVE TIME. FOR STANDARD AND ADVANCED SHADED COMMISSIONS PERTAINING TO THE BEACH OR SUMMER SCENES, WILL HAVE $10 DEDUCTED FROM THE COMMISSION TOTAL =3
====
[ -3 SLOTS AT A TIME  [ https://a.deviantart.net/avatars/default.gif ]  [https://a.deviantart.net/avatars/default.gif]  [https://a.deviantart.net/avatars/default.gif] - ]
====
Pay policy
All online Payments accepted are through PayPal. All payments must be completed in full for operation and full transfer of work.
(NEW CHANGE REGARDING PAYPAL. FUTURE PAYPAL COMMISSIONS WILL BE USING INVOICES FROM THIS POINT FORWARD.)
-All Commissions will adhere to the local site Rules and Regulations on displays of artwork and their definitions.
-I will update you with the sketch of the commission prior to staring the inking and coloring phase. If the sketch is approved, i will proceed to inking and coloring. At this point any major changes will be considered Do-Overs or Redraws and will constitute the proper fees. 
-A Re-Draw will be considered if the request requires a completely different pose or picture than what was completed and accepted during sketch and its after the 24 hour period of completion. The fee to complete a Re-Draw is $25. 
-After Completion edit will be any edits that are requested after the commission is completed and outside of the 24 hour period. The fee is $15 to complete the edit (I will edit any and all irregularities that i find for no extra charge or anything pointed out during the sketch period.)
After Completion Edit requests will add an extra $15.00 to complete.
After Completion Redraw/Do over is an extra $25.00 to complete
-------------------------
For Refunds, refer to my Refund Policy here: Commission Refund Policy
( YOU MUST READ THE REFUND POLICY IN DETAIL FOR ME TO CONSIDER DOING A REFUND )
-------------------------
-Youtube Speedraw is new to the commission roaster. This will not include Animations due to time consumption
-Animations This is new to the commission roaster. Commissions that will be animated must be prepared to be simple and short and will not include Advanced or Standard Shading until further notice. 
====
[I Will Draw] 
Original Characters/FanOC Characters
Media Canon Characters (I'm not doing CanonxOC pairings at this time)
Props Gear and Mechanics 
Anthropomorphic Characters (Complexity Fee for detailed heavy characters may apply) 
Scenes, Wallpapers, and Colleges (prices vary than what is shown) 
Characters from text detail designs (we can discuss that) 
Very SFW to NSFW hentai scenes
====
[I will NOT Draw]
-Anything that I feel uncomfortable in drawing. (You can ask me and I'll let you know) 
-Any kind of Political/Ethical/Religious directed piece that ether encourages/discourages or in anyway disrespect or attempt to induct to said group 
-Extreme/Over Exaggerated Violence (Ridiculous gallons of blood being thrown everywhere) 
Overly disturbing Fetishes, including:
-Death/Heavy Vore 
-Bowel Play (Skat and Urine) 
-(Due to sensitivity of subject, Roleplay of/or situations that displays Rape (Clear Unwillingness/Nonconsensual or Date Rape. This does not include Teasing) 
-EroGuru (Macabre eroticism/Necrophilia) 
-Any kind of Pedophilia situation (Character at minimal must be of the age of 18. For furs, includes Cub and infant IF the commission applies to an Adult situation)